Technical ceramics from CeramTec mobilize, provide power, conserve resources, protect investments and increase quality of life. CeramTec's advanced ceramic materials such as alumina, zirconium oxide or silicon nitride and carbide do all this, most often behind the scenes in technical applications. We may not notice them, but we encounter these materials every day. So the question "Where can advanced ceramics be found?" seems to be a justified one. CeramTec's answer to this question for visitors to the Hannover Messe in Hall 5-D32 is: "Nearly everywhere."
Discover the world of technical ceramics at Industrial Supply, the world's leading trade fair for industrial supply solutions and light-weight construction: Products, solutions and services based on ceramic materials from CeramTec for automotive and vehicle engineering, electronics, energy and environment, equipment and mechanical engineering and medical technology. The CeramTec ceramics experts look forward to welcoming you there!
Can't make it to the Hannover Messe but still interested in finding out more about the many applications that feature advanced ceramics?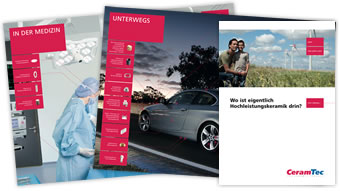 Just in time for the Hannover Messe, CeramTec is offering a new brochure that features an overview of this topic and provides examples of the ceramic materials we encounter everywhere, from our homes to offices, in industrial manufacturing or in hospitals.
To receive your printed copy of the "Where Can Advanced Ceramics Be Found?" brochure, send an email with your shipping address to technical-ceramics@ceramtec.de.